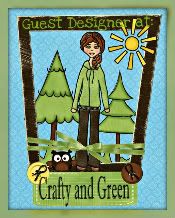 TALENTED FRIENDS OF CRAFTY AND GREEN GUEST DESIGNER DAY. Week #5
I'm going to be having a guest designer EVERY week! I decided to start 2012 out with a bang, celebrating with all my talented and crafty Friends. Each month I will have a Theme and a Sketch. The Guest Designers will follow the Theme and have the option to use the sketch or create something completely unique!
This Month the theme for my guest designers is Friendship & Laughing!
I'm So Excited to Introduce my 5th Talented Friend/Assistant and Guest Designer of the Year:
This is my 1st guest design spot for a wonderful friend Tina. I am so happy to be doing this. The theme for my card is "Friendship & Laughing". There is also a sketch we could us as well.
I used Karber digi stamp Best Friends and you can find that HERE
I used CardzTv Stamp for the "You & Me. and you can find them HERE
Thank you Tina for letting me be a guest designer today. I have everyone has a wonderful day. Stay Safe
Thank you so much Amanda! Super Cute Card!!
Until Next Time Friends, $$Craft Green to Save Green$$