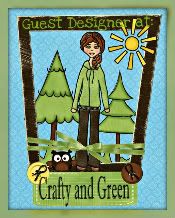 TALENTED FRIENDS OF CRAFTY AND GREEN GUEST DESIGNER DAY. Week #6
Hello Friends! Welcome to another Guest Designer Thursday here at Crafty & Green!! I'm really enjoying the diversity of projects from my guest Designers. Just so you know, the Guest Designers will follow the Theme of the month and have the option to use the sketch or create something completely unique!
This Month the theme for my guest designers is Friendship & Laughing!
I'm So Excited to Introduce another Talented Friend and Guest Designer:
"Hi my name is Laura and this is my first Guest Designer spot over here on Crafty & Green!! Thank you Tina for the chance to do this!!! I have been crafting for over 10 years but just started blogging about 6 months ago and I'm having SO much fun meeting new crafty friends!! Here is my card for this months theme & sketch!!! Head on over to My Blog to see more details and thanks again Tina for this wonderful opportunity!"
Thank you Laura! What an Adorable Card! I love the details you put into this!!
$$Craft Green To Save Green$$