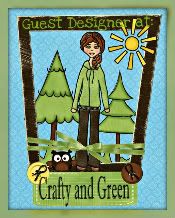 TALENTED FRIENDS OF CRAFTY AND GREEN GUEST DESIGNER DAY.
Week # 7
Hello Friends! Welcome to another talent filled Guest Designer Thursday here at Crafty & Green!! I'm really enjoying the diversity of projects from my guest Designers. Just so you know, the Guest Designers will follow the Theme of the month and have the option to use the sketch or create something completely unique!
This Month the theme for my guest designers is Friendship & Laughing!
I'm So Excited to Introduce another Super Duper Talented Friend and Guest Designer:
I just adore Jackie's Work & Creativity! Please Stop by and visit her blog to leave her some love!! Thanks so much Jackie! I Love this Card so much!!